3 Simple Techniques for Maintaining a Steady Stream of Ideas for Your Dental Blog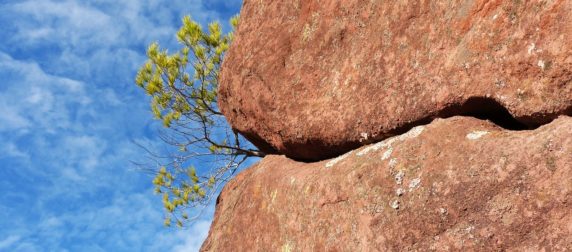 It's simple erosion yet the rest of my yard looks great! The lack of lush, green grass in a small portion of my backyard provides a useful principle for how to maintain a steady flow of content on your dental blog.
I'm no lawn expert but I'm aware that grass has difficulty growing once soil erosion sets in. The erosion began a few years ago. Our labrador, Mandy, got it started with her routine "wallow" beneath the shade of our tree.
Overtime the erosion created a washed-out place. Lack of guttering to catch the water and the shade of our now massive maple tree are the main causes now.
Perhaps the biggest problem you face with your dental blog
Informative, search-relevant topic ideas are what sustain your dental blog and most content streams. Without a steady flow of ideas your content strategy will suffer.
You'll be irrelevant to your growing audience of readers. And you'll risk losing them because you have nothing that compels them to increase their time on your page.
There's another fundamental issue. It's like my guttering problem.
I can stop the erosion if I have a place to catch the water. Like that, ideas must be collected or your dental blog will erode.
A limitless source of ideas
It's a common problem. It's also a reason you'll be tempted to give up on your blog.
You want and need a source of ideas.
Think of ideas like "seeds."
You plant them in an easy to access place (more on that in a moment). You water them and one day they "green-up" into something useful to your readers.
As a dental professional this all begins with your patients or clients. They are your limitless source of ideas.
Would you allow your patients or clients to write your blog?
However you feel about your current and potential patients/clients, they are your audience. What if you made them part of your content team?
I'm not implying that you should give them access to your WordPress password, allow them to log into your blog, and start writing.
Rather, I'm recommending the you allow them to write your blog from the idea side.
You have a wealth of blog topic ideas within the sound of their voice.
Are you listening?
And listening in this instance has more to do with what's not being said as much as what IS being said.
Questions are the key. Ask and you shall receive.
How your dental blog can give you
expert status
1-"Savor" the questions you're asked or that you hear
You're accustomed to dispensing services. Your information comes at a premium.
Most often it's distributed face to face, chair-side, or another way that requires your physical presence. Nothing wrong with that but it lacks scalability.
These days making your information stream available and easy to access increases your value to patients/clients. They (like you) will search for what they want to know and somewhat expect a quick, useful answer – one that compels action.
This requires having your "radar" fine-tuned.
Are you picking up on the signals that your audience is sending?
They're consistently informing you through their questions about their problems. Become efficient at "saving" the data you receive in the form of patient/client questions.
Avoid dismissing them as simple inquiries.
Do a deeper dive beneath the surface and listen for motives, fears, and other emotions that could be prompting their question(s).
Next…
2-"Seed" the information you obtain into potential content
I said "potential." The reason: not all questions "grow" into an evergreen blog post or other content form.
But most will!
Have a place to greenhouse those "seeds." I use and highly recommend Evernote.
Wherever you plant your content "seeds" for future harvest – Evernote, a paper notebook, Google Doc file, etc., – don't edit them…yet. Let them take root as other related questions will come along and one day a useful piece of content will emerge.
3-Share the information in an easily accessible format.
Most questions you're asked can be "seeded" into sub-topics. For example, I blog regularly for an implant specialist.
To date I've written over 70 blog posts for him. Ninety-eight percent are related to questions about dental implants.
There's no way to do this unless you sub-topic that content "seed" (dental implant questions). This is among the main reasons I encourage you to not put all your webpage "energy" into lengthy "Services" pages.
You compel more interest (traffic) via an informative blog page where you've "chunked" a broader topic (like dental implants, etc.) into sub-topics that answer your audience's questions.
Ultimately, it's about compelling interest in your services. A compelled reader who has easy access to informative, useful content is more likely to take the next step.
And that's good for "business." Agreed?