3 Ways to Deliver Value Through Your Dental Marketing Content to the Masses Searching for Your Services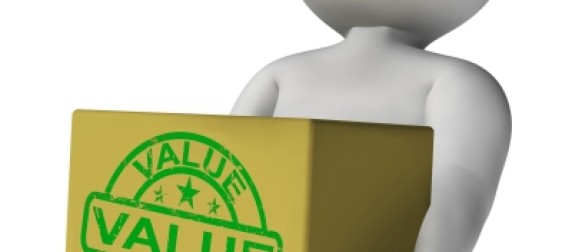 "You add about as much value as the 'g' in lasagna." – @BillMurray (not the actor) via Twitter
I chuckled while scanning my Twitter timeline as the above quote got my attention. It's blunt but there's a principle you shouldn't ignore.
Whatever you do, don't be a "g."
It's vital to your dental marketing success that you avoid being the "g." As quoted, the "g" adds no value.
In the language context it occupies a necessary space, a keystroke, within a yummy word. But it's silent and holds no value beyond the word's spelling.
I'm not going to debate the nuances of the English language here. That's not my point.
Here's the principle: Your dental marketing content – especially online – should add value to your readers and dental website visitors.
There's two reasons I've been beating this "drum" on recent posts.
One, is because the volume of dentists, dental professionals, and dental marketers who are "getting-it" is increasing as we speak. If that's you, you're dialed-in to the digital marketing reality that having a dental website is ONLY the beginning.
There's more and you know it.
You've adopted the content marketing mantra that valuable, useful content, consistently published, and distributed via a blog/article page, a podcast, social media, etc is how you build a trusting audience – an audience of readers who will gladly use your services because they trust your expert content.
The second reason for beating the "content-drum?"
A significant number (I'm sad to say) still rely on high-word count, feature-heavy, technical web pages full of dental-speak that colleagues understand but the general public quickly click away from. Not because they're "dumb" but because the content is "numb" (typical, expected, overdone, and over-used).
How to Deliver Value Through Your Online Dental Marketing Content to the Masses Searching for Your Services
1-Publish Tight, Accessible Content
"Tight" content is readable. Copy and content readability involves a conversational flow.
Write and publish content that your readers can easily scan and understand. Keep in mind that most are reading your content (and viewing your website) on a smartphone or mobile device like an iPad or tablet.
Accessibility is vital to your digital marketing success. The tighter and less wordy your copy/content is the better for how your reader commonly accesses it.
2-Deliver Useful Content Consistently
I'm often asked, "How frequently should I publish or distribute my content?" Opinions vary.
At a minimum I encourage dental professionals to publish every other week or two times per month – minimum! Weekly is best (four times per month on average).
Consistency builds momentum. And the quicker you build momentum with valuable, useful content via a blog, podcast, or social media channels the more trusted you and your expertise become.
Brainstorm and write down the questions your patients or clients are asking. What topics emerge that you could answer through a 400 to 500 word article/blog post?
Create and update an editorial calendar. List topics that apply to certain dental "seasons" (Late summer: back-to-school, Fall/Holiday: end of year insurance benefits, Spring/Early Summer: teeth whitening and cosmetic dentistry for wedding and prom season, Etc.).
Hire/contract with a skilled copywriter or blog content writer who understands the dental "landscape."
3-Compel with an Easy, Clear Call-to-Action
Inform your readers what the next step is. Compel them to take it.
Use "action" words like "Schedule," "Contact Us," "Request," "Click here," Etc.
Remove the passive language from your website content. Words like "Welcome to…," "We're proud to announce…," "We would like to…," "Please…," imply passivity and permission.
Tell readers about the benefits of your services and ask them to do something specific to access them.
Deliver value through every piece of content you publish. It's how you build trust, gain attention…and avoid being a "g."