How Consistent Curiosity Can Drive Your Dental Content Marketing Strategy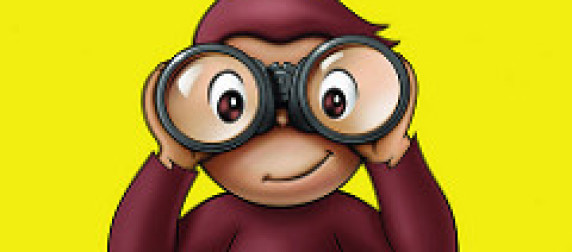 I consume content in a variety of places. What I learn from a favorite children's character might surprise you and provide you a valuable strategy for your dental content.
Curious George is a fave of our grandson. So naturally he's among mine too.
Curiosity works
Being consistently curious can lead you to be more resourceful. In fact, that's usually the outcome for Curious George.
Insatiable curiosity will compel you to look for clues. And those clues form a trail that could lead to a profitable or beneficial breakthrough.
The clues you follow are the essence of your ability to listen to your patients or clients. Picking up on their clues creates a stockpile of content sources.
End dental content marketing frustration
What to write, blog, post, or chat about is an endless challenge. There are, of course, a variety of strategies for the "what-do-I-blog-about-next?" dilemma.
I'll focus on a fundamental idea in this post.
I was having this discussion recently with a dental client I blog for. We exchanged ideas on effective strategies for being intuitive about their reader's questions.
The better part of our conversation had to do with turning those questions into blog/article content.
The thing about questions
The questions your readers ask are a vital resource stream for your content. Questions are a window into the needs, wants, and desires of your patients and clients.
Problems masquerade as questions. Answer them with useful solutions and you'll form potentially profitable connections.
How to Listen and Leverage Your Patient's or Client's FAQ's (Frequently Asked Questions) Into Intentional Dental Content that Delivers Solutions
1-Re-engineer your FAQ page
A well written FAQ page can highlight your services (and related keywords), reveal your awareness of common issues, and promote your expertise. You can also gain significant traction by exporting your solutions to other content streams.
On a blog/article page you have more canvas to work with. You can tap into your patient/client emotions more effectively, provide more benefits, and legitimately invite a call-to-action.
Plus, your blog posts are recognized as more authoritative. This increases your influence and expertise in the eyes of your reader.
Dissect your FAQ page. Look for topics you can expand into blog posts, articles, podcasts, social media, etc.
2-Retrain your social listening skills
There are valuable conversations occurring around you. Their value has to do with your willingness and ability to monitor them.
It's not creepy at all. Why?
Today's social media is an open conversation about random and sometimes beneficial information.
Listen to what your patients/clients are talking about on social media. What are their fears, concerns, and problems? Listen and leverage your content in the direction of their search for answers and solutions.
Appoint "brand ambassadors." Free up select team members to extend their "radar" and listen to patient/client dialogue. Follow social media and key in on trending #hashtags that are relevant to your industry. Listen more intuitively during chair-side conversations about treatment and treatment plan questions. Do this for starters and think "how can we turn this into useful content" while you're listening or reviewing your discoveries.
3-Recycle feedback
You've heard it said (though now a bit cliche) that "feedback is the breakfast of champions." Don't know who said that or why but it's worth reflection.
Track and monitor your support and feedback channels. What's being said between the lines on your patient/client surveys? How are you being perceived via your online reviews? These channels speak volumes about where your audience is and how you are (or are not) reaching them with your content.
Look over the fence into your "neighbor's backyard." That is, scan your competitor's reviews, testimonials, and social media channels (Facebook page, Instagram, etc.). Find content topic "seeds" you can use on your "channels."
Curiosity opens your eyes to opportunities you might not have considered. Up your curious nature and "monkey-around" a bit – the payoff could be high.