How to Build Your Dental Marketing Plan Like a Dance in the Summer Rain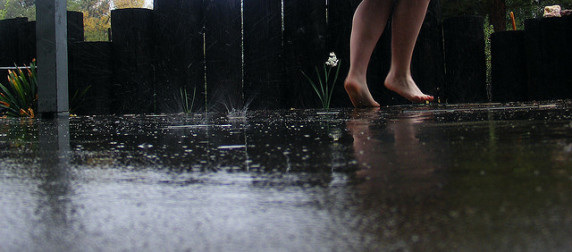 I envied her the moment I saw her walking along the curb in the street outside my office window. Nothing was stopping this mom and her two preteen daughters from thoroughly enjoying the drenching downpour of a summer rainstorm.
What if you could free yourself from boundaries in your dental marketing? Being aware you have them is the first step towards a new era of effectiveness.
The mom's and daughter's laughter made me curious. And my curiosity was quickly turned to thoughts of how freeing it is to lift your arms into a summer downpour with no fear of getting soaked to the bone.
Everything in me wants to live that way. More of that freedom desire is in me for how I write, market, and run my growing dental content and consulting business.
Think free-range
Most of my life, I've been an outside-the-box, color-outside-the-lines kinda guy. Cliche' as that sounds, the core value could be the difference in how you connect with your patients and/or clients through your marketing.
You build an audience these days by…
Content that sounds like a conversation more than a used-car-lot sales pitch.
Connecting with people in a social media environment more than an invasive, in-your-face marketing campaign.
Compelling people to do business with you as result of your freely shared, easily accessible, useful knowledge and expertise more than dropping people into a sales funnel to see who survives the process.
What I'm saying is – untether yourself from how it's always been done…how it's currently being done (in some instances)…and get out there in the downpour of possibilities.
What's possible?
Let's get practical. You own a platform on which your services are the main course.
As a dental provider you're known for providing treatment that helps people eliminate their pain, maintain their health, and look better. If you're a supplier, consultant, or marketing firm you're a connector that delivers the goods to help dental providers do their job effectively.
None of that's ground breaking information, I'm guessing. But it's a perspective that shapes a few possibilities you might have forgotten or not pursued in your dental marketing.
Build your dental marketing plan like a dance-in-the-summer-rain (Why it's okay to free yourself from how you've always done it)
1-Get comfortable with creating useful content around your professional expertise and services.
The easiest and yet most ineffective thing about your dental website?
You can set it and forget it.
But forgetting it no longer has the effect it once had. Why?
Google values content…content…content. Not just any content, rather content that's fresh, relevant, and useful to your market…and delivered consistently.
Keywords matter (don't misunderstand) but they're no longer the magic dust they once were.
Use them. Just don't abuse them.
What do I mean?
Baiting your website with keyword data to get the search hits is old-school. And it's especially confining (not freeing at all) if it's ALL you rely on to get found in your local search results.
Pay as you go is another, still popular, option. Google ads are effective but their scalability is lacking if you want to invest available marketing dollars elsewhere.
Here's your elsewhere…and it's totally free-ing!
Brainstorm all the topics you can think of that serve your patients/clients. Then consistently create blog posts, enewsletter articles, podcasts, etc and share them with your list.
Listen to your patients/clients. What are they telling you about their pain, problems, need for solutions, etc.?
Scan your testimonials and reviews for "nuggets" of info you can build content around.
And if all this sounds time consuming and out of your wheelhouse –
Hire a copywriter/content writer to do the "heavy-lifting" while you stay on your game in dentistry.
Sound good?
2-Build relationships with social media and use the connection to help people with your expertise.
Social media isn't all cat videos (those are hysterical), images of your latest root canal procedure (gross), or a group photo standing under your latest proclaimed state-of-the-art technology or service you invested thousands of dollars to promote at your booth at the recent industry convention (who cares…wait…that was rude…sorry – but you get my point…hopefully?).
Conversation is the essence of social media. And it's dialog that often, if not most of the time, revolves around the sharing of knowledge based content – yours or someone else's.
Social media is a wasted tool, if…you're only talking about yourself and not helpfully engaging people in conversation around…wait for it…your "greatness."
I use that term "greatness" loosely.
Face it, you ARE great. You have skills, expertise, authority…and by-golly people like you! Or they should, right?
Dance in the social media rain, my friend.
Post useful info/content on your dental practice Facebook page.
Link to your blog, latest podcast episode, or another industry colleague's content via your Twitter feed.
Picture your practice culture on Pinterest or Instagram.
Tell a story with video on your YouTube channel.
And remember…
3-People do business with those they know, like, and trust.
Trust grows over time when you help people deal with their pain, problems, and related challenges. It's vital to your marketing relationships (that's what they should be) that you don't give the you're-just-a-name-on-my-huge-aren't-you-impressed-with-the-size-of-it-list impression.
Lists are essential (treasure them). Marketing funnels work (careful you don't abuse the privilege of your list trusting you to promote to them).
Marketing is ultimately about sharing information or services that help and potentially change people's lives.
And you can do it with an effortless humanity that people feel more compelled to give you their time…and money.
Be that person. It's the principle behind why I stopped working for a moment to watch a mom and her daughters dance joyfully in the rain.
Lose the marketing tone, schtick, or whatever you want to call it. Be yourself by talking like a human being to other human beings.
Evaluate your marketing copy and content by it's dance-in-the-rain, conversational, realness. Write (and market) like you talk!
Preserve people's trust once you've earned it. Keep giving away content (blog posts, podcasts, newsletters, reports, webinars, etc.) because it helps them.
Then…
Enjoy the returns on your investment. Celebrate them like a soaking dance in a summer downpour.