Where the Line Forms: How to Build Anticipation with Your Dental Blog Content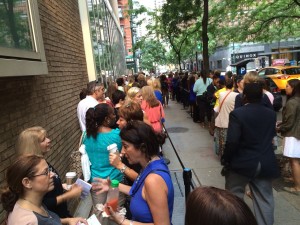 As a teen I remember standing in line alongside my dad, outside our hometown's twin screen movie theater.
Tickets in hand.
The crowd and anticipation building.
Star Wars…enough said!
Blockbusters have a certain appeal. And that sense of anticipation works for your dental blog content like it does movies.
I recently introduced our young grandson to the Star Wars franchise. I'm building anticipation in him for the approaching release of the latest chapter in the sci-fi series.
He's hooked. And the promotional teaser for the new film had him uttering a wide-eyed, "Wow!"
Good content – visual or otherwise – elicits an emotional response in one form or another.
What's "Wow!" and are you getting it?
Unlike my dad and I full of anticipation years ago for the local premiere of George Lucas' story from a "galaxy far, far away…," I get that the general public isn't lining up to read dental content on your website.
There are reasons for this.
The obvious ones: time and perception.
One of those you can't control. The other you absolutely can.
Perception is everything. Start controlling it.
The first level of defenses fall the moment a potential new patient, client, or current one types in a dental search term in their web browser. Your published content goes to work on your behalf.
And this is where the current online reality shifts for you and your dental practice. The availability of relevant content increases the likelihood you'll show up somewhere at or near the top of their search results.
Merely having a website with the words "dental," "dentist," etc peppered throughout just to stoke the search engine's fire. Those days are gone.
Welcome to the new digital marketing world of usefulness (the key, by the way, to controlling perception and building anticipation).
Give them something.
If it's written content, it must be readable, understandable, and above all, useful to their search.
Perception is that dental content is technical (much of it is).
Perception is that dental content is boring (much of it is).
Perception is that dental content is baited and weighted to lure you into the office for something "free" that will lead you into a consult room where you're introduced to the "need" for hundreds or thousands of dollars of treatment (much of it is).
The rise of "just because" content.
Informed decisions are better than decisions made under pressure. Wouldn't you rather have the reputation of being a trusted resource that educates people into a decision?
Become an authority. And when people trust you as an authority their perception shifts.
How to shift the perception about your dental content.
1-Launch, re-launch, revise, or revisit your dental blog strategy.
Did you give up blogging too soon? Have you delayed starting? Are there loooong gaps between your most recent post and today?
Your authority as a dental professional increases when you consistently deliver quality, useful, reader-focused information.
CE courses and credits can appear irrelevant (as a credential) for the general public. They're looking for accessible answers to their questions.
And people are accustomed to reaching for their smart phone or tablet, opening their web browser, typing a word in the search bar…and viola!…reading something relevant to their need.
They will read. And vital to your authority, they'll return for more if what they find leads to solutions on a physical or emotional level.
2-Keep your blog topped-off with a minimum of two fresh posts per month.
We could debate blog frequency all day. Let's not.
Instead, set a goal to blog consistently. And by consistent, start with a fresh post every other week (minimum two per month).
Once you get in-the-zone you'll actually find it easier to up the frequency. In fact, once a week will become your new blogging pace.
Set a goal to publish once a week as you complete a month or two of every other week publishing. Block out some time. Maintain a running list of topics and content ideas.
And if your time is limited or your desire to write is low (as I suspect both to be true since you're a busy, thriving dental professional who'd rather be doing dentistry) secure the services of a dental copywriter or dental blogger to produce your blog content on a consistent weekly, bi-weekly, or monthly schedule.
3-Listen, learn, and leverage what you discover into new posts.
Be intentional about publishing content that people will read and return for more. And your best intentional strategy is listening.
What are your patients, clients, readers asking about? Talking about?
Ask your dental hygienists what they're hearing from patients. They're on the front-lines of patient communication.
Train them, your dental assistants, and front-office team to ask fruitful questions. You're seeking information you can turn into informational content.
When you do this effectively, patients will get the idea that you're tapped into their concerns, fears, health and appearance goals, etc. When they feel listened to and heard, they'll naturally share your content with others.
And shared content equals referrals. And referrals help build your practice.
If you want people to be wide-eyed with anticipation – the "Wow!" – build anticipation through your informative, useful content.
They may not line up. But they'll know where the line forms when the time comes.