Why Your Language Matters to Your Dental Marketing Message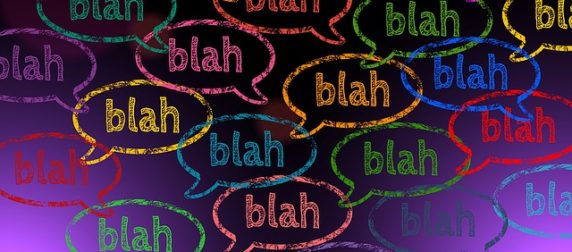 This phrase is inevitable when effective communication is the topic. "It's not what you say…
…but how you say it!"
True most of the time. But your dental marketing message could be more effective if you apply one half of that oft-repeated communication truth.
Try this: "It's not what you say…or maybe it IS!"
"What" you say and "how" you say it matter. Though when you're communicating with your patients or clients the language (the "what") you use is vital.
The eyes have it
Marcia Yudkin got me to thinking on-topic via her recent weekly newsletter:
"When I advise consulting clients that they're using jargon, they often pooh-pooh my point, arguing that potential customers all understand their terminology. What I've seen, though, is that when the average non-customer doesn't understand your language, many in the potential customer pool do not, either."
She illustrates her point…
"Explain what you do. Does the light go on in their eyes, or are they too baffled to even ask questions?"
It's vital that your dental marketing message and the content and copy that delivers it "lights up the eyes" of your audience.
Language is the linchpin.
Use language effectively to create a compelling dental marketing message that leads to appointments scheduled or products and services sold.
Tell a "story"
Think of story as the narrative you use to illustrate the features and benefits of your services or products. It's better to "show" (via compelling narrative) someone what to do than merely tell them.
Picture this (see what I did there)…you have a patient who has the beginning stages of periodontal disease. It's tempting to use technical dental-speak to make your case:
"You have a lesion showing increased capillary permeability with a large number of neutrophils moving from the dilated gingival plexus into your junctional epithelium and underlying connective tissue…"
Technically overstated (and above my knowledge base), I agree. Plus, I realize you would never communicate it in such a way (at least I hope not).
Chair side, clinical communication is a "conversation" that leads to a treatment decision more than an exchange of unclear, confusing technical data.
Reboot the perio diagnosis this way, for example: "Your 'pockets' are full. Bacteria have taken up residence in the space between your gums and tooth surface and they've invited their 'friends.'"
A bit pedestrian but easier to understand than the previous CE course language you're accustomed to as a dental professional.
I'm not suggesting you use what I shared.
Do this instead…
Develop your own, conversational, and compelling language for every service, treatment, and procedure benefit.
Think benefits and the narrative (story) you can use that compels them to take action based on your diagnosis or recommendation. Make them the "main character" of their own story with the outcome being tied to the benefits of your service, treatment, etc.
Turn that narrative into content that can be consumed outside of your office or presence. Blog posts, social media content, newsletters, infographics, images with compelling captions (Instagram, Facebook posts, Snapchat).
Refresh your dental marketing message. Have a bias for being clear and conversational more than being technical.